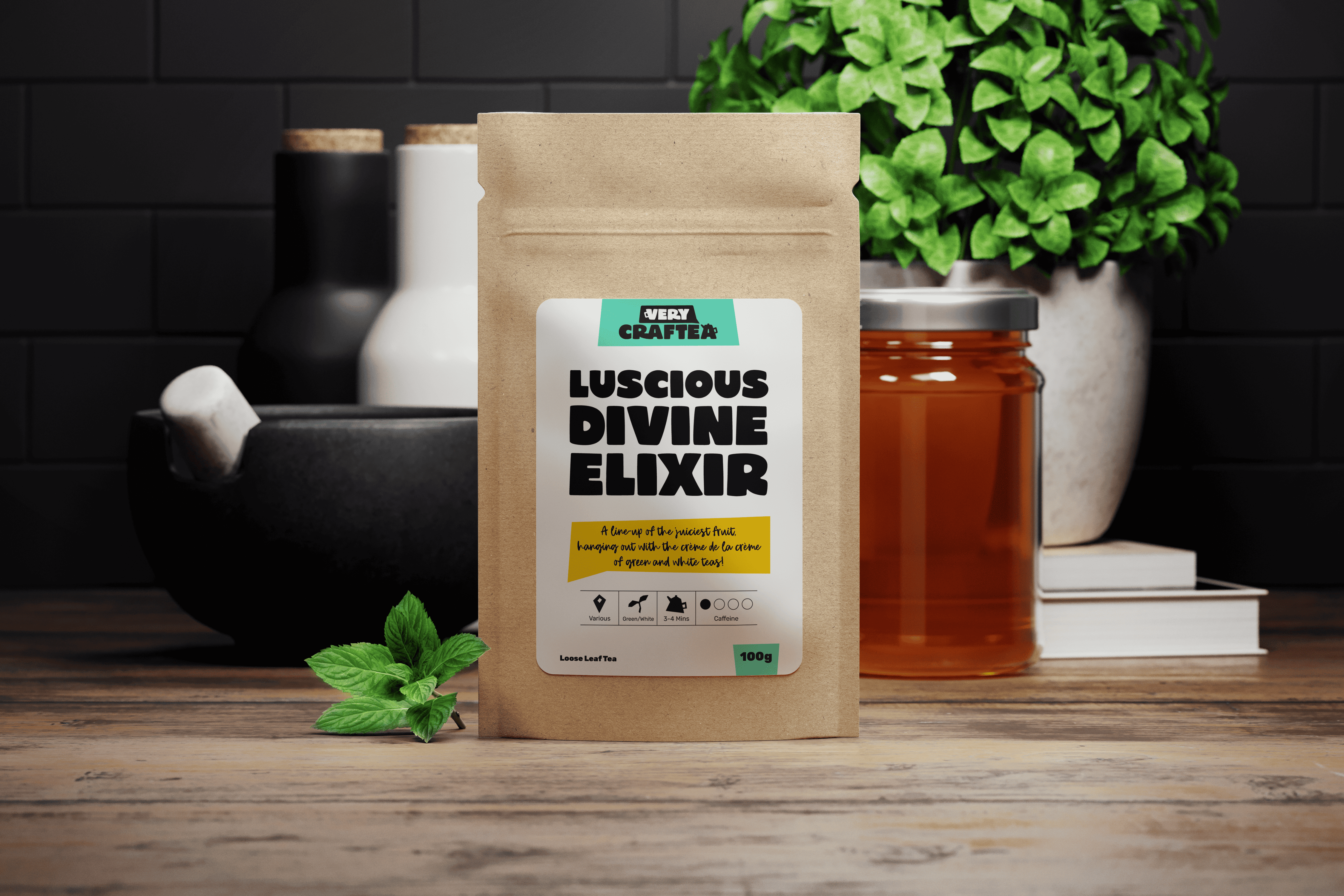 What's It Taste Like: Imagine a dazzling blend of Mother Nature's finest fruits, mingling with the crème de la crème of green and white teas. What's the result? A sip-worthy sensation that's like a delicate dance of peaches and lychees on your taste buds! Those fruity fireworks are perfectly balanced by the gentle, vegetal vibes of green tea and the mellow charm of white tea. It's like a tea party where everyone's getting along famously!
When to Brew: I have this all-the-time. 6am - have some Divine Elixir, 5pm - have some Divine Elixir, Midnight - have some Divine Elixir. I love it 

🎵This Is How You Brew It🎵: 1 teaspoon per cup for 2-3 mins in 70-80°C water. Watch that clock, my tea-loving amigo! Those delicate green and white teas are like prima donnas – they can't handle being over-brewed. So, don't let 'em soak too long, or they might just throw a tea tantrum!
Rumour Has It 👀: It's like a treasure trove of goodies for your body. We're talking anti-bacterial powers, anti-fungal finesse, antioxidant awesomeness, and a dash of anti-inflammatory flair. It's like the superhero of teas, here to save the day and keep you feeling fantastic!
Ingredients: Pai Mu Tan White tea, Darjeeling Green tea, Chinese Fog tea, Sencha, Lung Ching, Gunpowder, Jasmine, Jasmine Jade Pearls, Mango bits, Papaya bits, Orange peels, Strawberry bits, Red currants, Sour Cherry, Apricot bits, natural flavour
Origin: China, India 
Caffeine Content: Approx 15mg per cup